In places like hotels, hospitals, supermarkets, schools or public institutions it is advisable to choose a durable, low maintenance material for flooring. The best choice is a terrazzo floor which is becoming more popular these days. It is considered elegant, stylish and a practical choice for places with heavy traffic.
Terrazzo floors are created from small pieces of marble and other aggregates that are combined in tinted cement. It is easy to install and thanks to the glossy finish it looks attractive in every kind of interior. To make a good impression it needs to look elegant for as long as possible. Simple mopping is not enough!
Professional Terrazzo Floor Cleaning
Terrazzo is a long-lasting material, but when it is exposed to heavy traffic, its quality and overall look can deteriorate over time. The first noticeable thing is the loss of its typical shine. That happens due to the traffic and time, but also the impact of sand, soil, mud, water. It is best to use mats, carpeting and other resources to prevent them from affecting the floor surface.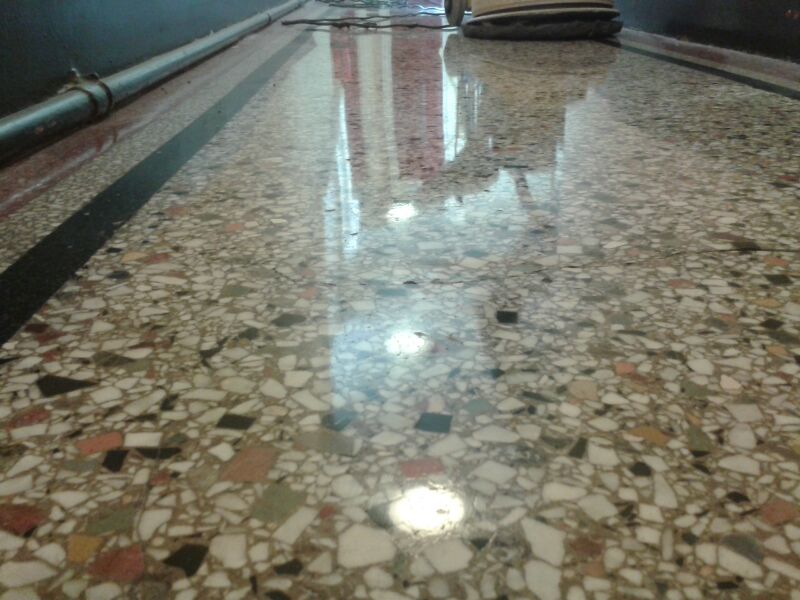 At Milos Marbles the process of cleaning terrazzo tiles starts with proper dusting and peeling off all the dirt. Next, we remove the old finish or sealant with a machine scrubber or especially designed chemicals. Then one can begin to carry out the deep cleaning and application of the foundation. Once the floor dries out, it should be preserved. Terrazzo floor resealing requires a formula that is absorbed into the pores of the material. This is an important step which guarantees better density, hardness of the floor, as well as protection from mechanical damages.
Terrazzo cleaning in London
The foundation and sealing help to maintain the floor throughout the year. After a professional cleaning, it is necessary to use special cleaning formulas for terrazzo flooring and regularly polish the surface to make it look fresh and flawless. If you're in London, Hemel Hempstead or Watford, Milos Marbles is here to help you with taking care of terrazzo tiles!
Areas we provide service
We offer the best marble, terrazzo & natural stone restoration, cleaning services in the London Area. We are dedicated to providing exemplary service and the highest quality. We treat you like our neighbor because you are.